Read all about the latest updates, initiatives and achievements across the CUSP research cluster from the past six months.
The CUSP research cluster is now in its second year, and the five member projects (AURORA, IMPTOX, PLASTICHEAL, PlasticsFatE, and POLYRISK) have over the past months developed dynamic and close collaborations which include regular meetings in well-established working groups.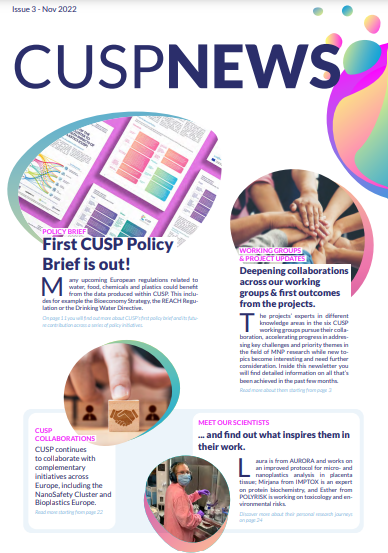 In this third issue of the CUSP newsletter, we talk about the publication of the first CUSP policy brief that raises awareness about the many European policy initiatives that can potentially be informed by CUSP findings. These include the EU's Bioeconomy Strategy, the REACH restrictions on intentionally added MNPs, and the EU's Drinking Water Directive.
Furthermore, the issue includes an overview of the latest achievements across the six CUSP working groups, including discussions on in vivo and human biomonitoring studies. In the section "News & Updates from CUSP and Our Projects", you can read about the last CUSP annual meeting in Ispra (Italy) and find out what each of the five projects has been up to over the past months. Don't miss the section on CUSP collaborations to learn about the widening network of joint efforts underway to better understand the potential impact of MNPs on human health.
In the "Announcements" section, you will find current calls for papers and Ph.D. scholarships. And last, but certainly not least, the latest issue introduces some of CUSP's researchers and lets you hear from them about what motivates their daily work, the challenges they face, and what got them into science in the first place!